Tavistock College Careers Education Programme
Rationale
Our careers education programme which runs through Years 7 – 13 makes a significant contribution to preparing our students for the opportunities and experiences of life. As adults, our students will need to be able to adapt to changing employment patterns so that they are able to operate in a climate of competition and be willing to develop new knowledge, transferable skills and competences throughout their working lives.
This is increasingly important as all pupils have to be in education or training until 18. The careers programme enables our students to develop the skills, knowledge & attitudes to make effective choices, specifically related to their decision-making and career planning and includes:
raising self-awareness;

raising aspirations & achievement;

challenging stereotypes;

promoting equality of opportunity;

developing research skills;

understanding options;

making effective decisions & managing their transitions as learners & workers.
Principles
The careers education programme operates under the following principles
Individuality

: the most appropriate outcome will differ for each student and there is no one 'best route'.

Neutrality

: we offer all options to students and give other post-16 providers equal access to our own students.
Objectives
Tavistock College Careers Education Programme has the following aims:
To contribute to strategies for raising achievement, especially increasing motivation

To support inclusion, challenging stereotyping and promote equality of opportunity

To encourage participation in continued learning, including further and higher education

To encourage employer engagement

To develop enterprise and employability skills

To reduce the drop out from course switching in education and training

To contribute to the economic prosperity of individuals and communities

To focus students on their future aspirations

To involve parents/carers as appropriate.
Development
This programme was developed and is reviewed by the Careers Leader (Assistant Principal) and is scrutinised by both the SLT and the local governing body. It is based on current Good Practice Guidelines by the DfE/Ofsted, in particular the 2018 National Careers Strategy and the Gatsby Report.
Implementation of Careers Education
Careers education is the responsibility of all teachers and tutors at Tavistock College. Careers education is delivered within the Tutor Programme by all Tutors as directed by the Careers Leader at appropriate points throughout the academic year. The structured programme includes focused events such as the Careers Fair, Enterprise Day and various work experience periods.
Students are entitled to CEIAG which meets the professional standards of practice and which is student centred, impartial and confidential. It is integrated into students' experience of the whole curriculum and is based on a partnership with students and their parents/carers. The programme is expected to raise aspirations, challenge stereotyping and promote equality and diversity.
Careers Education and Guidance is an important component of the 11-19 Curriculum and at Tavistock College, we fully support the statutory requirement for a programme of careers education in Year 7-13.
Partnerships
Alongside the partnership with our students' parents and carers the following external partnerships are involved in our careers education programme:
Careers South West works with our targeted students in Year 9-13 and provides our destination data.

Our College Enterprise Advisor meets regularly with the named Careers Leader to provide support and strategy for our careers programme.

Careers Enterprise Service works closely with their Careers Enterprise Advisers and the Careers Lead to provide training and support.

Local HEIs and Colleges provide support in the form of presentations, advice sessions, drop including and Taster days.

The local Tavistock & District chamber of commerce support the school and provide opportunities for our students within the local community.
Equal Opportunities
All students have an entitlement to CEIAG regardless of race, gender, religion, ability
(including SEN and G&T), disability, background & sexual orientation.
All students have equal access to accurate, current, impartial & independent information, advice & guidance, free from bias and stereotyping.

Students' personal needs and aspirations are the most important factor in any activity and will be treated with respect.

The programme will continue to reflect the changing nature of occupational patterns & trends, based on the latest labour market information.

All students have access to a range of resources which match individual need.

The CEIAG programme helps students to understand the importance of equal opportunities in working life.

The CEIAG programme aims to challenge stereotyping & demonstrates how to deal with prejudice & discrimination of all types.
Outcomes
By the end of the following key stages, all students will:
Key stage 3

have a greater awareness of themselves (their qualities, abilities, weaknesses & limitations).

know how & where to access careers information & guidance.

have received a GCSE options interview with a senior member of staff before making Y8 (into 9) option choices.

be aware of the implications of KS4 choices.

be able to explain & understand the links between school & the world of work.

Key stage 4

have chosen an appropriate education or training pathway by researching the necessary information, advice & guidance.

have participated in a week of work experience.

have an increased awareness of post-16 (and post-18) options & pathways, including Apprenticeships & higher education.

have a portfolio of career-related documents including a CV, a Personal Statement.

Key stage 5

have an increased awareness of post 18, and where applicable post-HE, options & pathways, including HE, Apprenticeships, Employment, Armed Forces, College and Gap Years.

have built their CV and Personal Statement through study, volunteering, work experience, part-time work etc.

have chosen and successfully applied for an appropriate pathway by researching the necessary information, advice & guidance.

have participated in a further week of work experience.

have completed an employability passport through the tutor programme.
I am always delighted to hear from parents, carers or local businesses who would like to get involved in supporting the careers education of our students, whether that be through our work experience programmes, work shadowing opportunities, workshops or mock interviews. Do get in touch if this is of interest to you.
Named Careers Leader: James Stroud, Associate Vice Principal, j.stroud@tavistockcollege.org, 01822 614231
Careers Education content next review: July 2022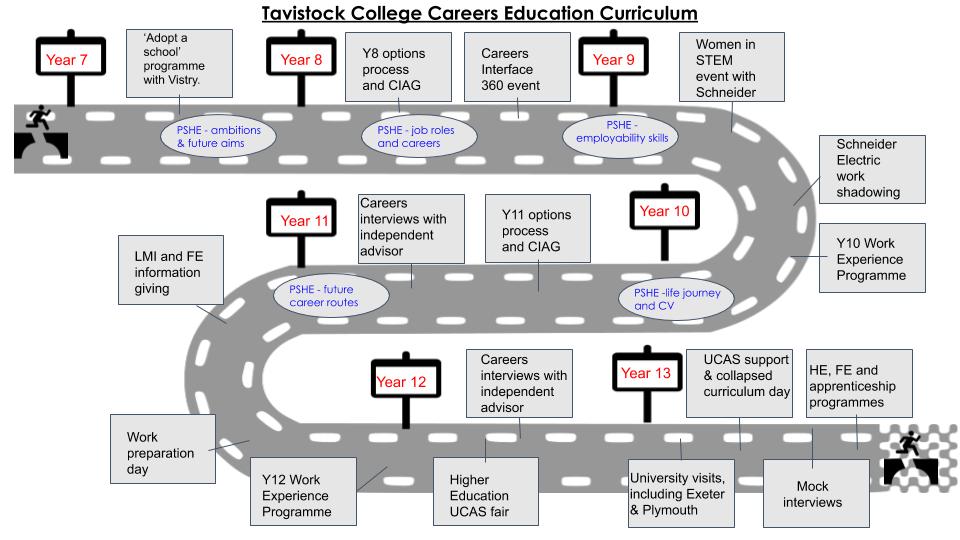 Parental information regarding careers
Employers information regarding careers
We welcome any engagement with external companies and relish the opportunity to work within our local community.
If any employers would like more information about working with Tavistock College either to run workshops on site or offsite please email the Careers Lead.
For young people, engaging with employers and experiencing workplaces is key in helping them find their best next step. There are lots of ways employers can support young people, working with individual schools and colleges or working with Careers Hubs on a larger local and regional scale. As well as directly supporting young people, there are key benefits to businesses, from personal development for staff, to identifying new talent and building pipelines for the future.
Careers Lead
J.Stroud@tavistockcollege.org